Graphiteleader 23 CORTO 23GCORS-642L-T
Synonymous with lightweight and high sensitivity.
A high-dimensional embodiment of the elements required in the modern aging scene. Sensitivity and operability have been dramatically improved by adopting the original carbon reel sheet "OP-01". It has performance comparable to high-end models, and has a finish that will satisfy everyone from entry users to expert anglers. There are many variations and there are no blind spots. The lineup is such that you can find what you want.
23GCORS-642L-T
The length is 6ft4in, neither too long nor too short.

 

The 1.1mm ultra-thin tubular tip has good reverberation sensitivity without sacrificing operational sensitivity, giving you a clear feeling as if it were equipped with a high-sensitivity sensor.

 

It is a reliable item that has a high ability to respond to the rig and field used.
Length




(m)

Power

Action

Weight




(g)

Close




(cm)

Top Dia




(mm)

Section




(pcs.)

Lure




(g)

Line




(lb)




1.93

L

Fast
55
99.5
1.1

2

MAX 4g

MAX 2.5lb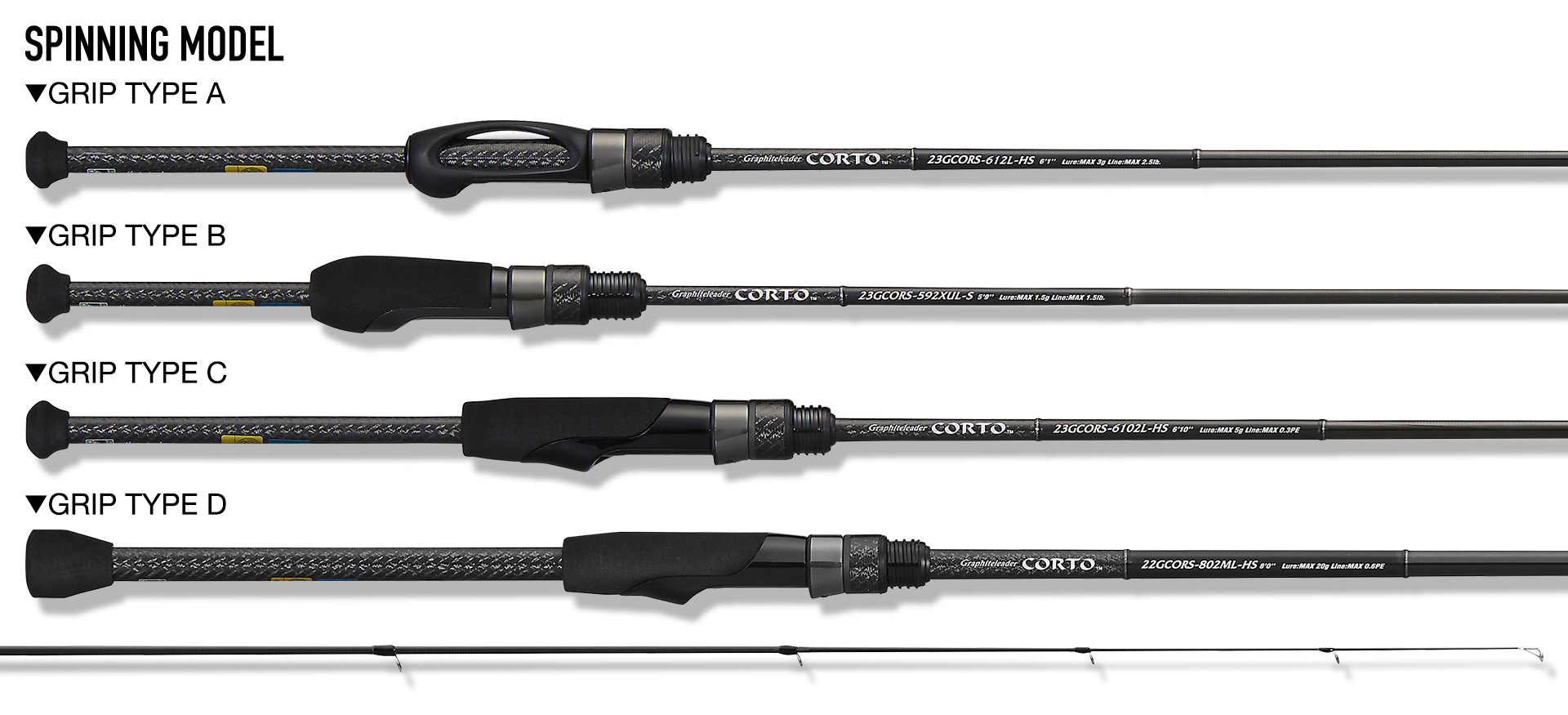 BLANK MATERIAL & TECHNOLOGY
Using high-elasticity carbon, it realizes a slim and lightweight blank with tension.

 

By winding "light weight graphite cloth" in the butt section with a bias cut, the strength in the torsional direction is greatly improved.


Click here

 

for more information about Materials & Technologies
FEATURES
The 572UL-TS uses a nickel-titanium tip connected to a carbon tubular structure using Olympic's unique patented technology.

 

By maximizing the benefits of different materials, it amplifies not only the bite of the fish, but also the slightest change in the current, and transmits it to the angler.

 

"Titanium Solid" was born from the fusion of feedback from repeated tests and the latest technology, and the invisible area is in your hands.
Adopts lightweight titanium frame SiC-S ring guide.

 

(572UL-TS/572UL-HS/592XUL-S)

Adopts lightweight titanium frame SiC-S ring guide.

 

(612L-HS/622UL-HS/642L-HS/642L-T/6102L-HS/802ML-HS)

The joint part is a slip-over ferrule (reverse splice), and it draws an elegant bending curve like a dress.

572UL-TS / 572UL-HS / 612L-HS / 622UL-HS / 642L-HS / 642L-T adopts the original carbon reel seat "OP-01" developed by Olimpic in a down-lock system.

 

It achieves high sensitivity and light weight, and enables delicate rig operation.

 

Please see here for the original carbon reel seat "OP-01" .

The 592XUL-HS uses a lightweight IPS reel seat with a down-lock system.

The 6102L-HS/802ML-HS uses a lightweight and slender VSS reel seat with a down-lock system.

Front gripless design makes it easy to blank touch.

 

And while using a separate grip, the rear grip part is kept to a minimum size to reduce weight and enable delicate rig operation.