Daiwa TG bait ULJ (Tungsten)
Supports ultra light jigging. TG bait minimum size



TG bait that matches ultra-light games that pursue a more minimal bait of super light, including light games of horse mackerel and rockfish. Tungsten and compact silhouette attract the target.

Specification details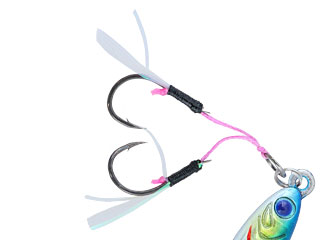 ■ Delicate hooks
that match the weights Hook specifications with tinsel that match each weight.
A new straight-type hook with no twist on the Chinubari base has been newly created with Saxus. For small targets, hook settings are set according to it, and it is set to reach the itchy place.

"SaqSas" that does not miss a chance with amazing penetrating power



| | |
| --- | --- |
| | Surface treatment technology with amazing penetration that could not be achieved by conventional plating. By applying a special fluorine-based plating process to the surface of the tension, the piercing performance is improved by up to 40% (about 20% on average) compared to the conventional coating tension (compared to our company). Catch small atari and short bites that could not be matched until now. The "crispy stab" sensation, which is different from the traditional tension, should be unforgettable once you experience it. In addition, since it is very well pierced, please be more careful when handling it. |
 
 

[Electron micrograph of the surface]

[Penetration force comparison data graph]




(The lower the value, the easier it is to penetrate)

TG bait ULJ

| Size (mm) | Size (g) | | |
| --- | --- | --- | --- |
| 42 | 15 | | |
| 49 | 20 | | |
| 52 52 | twenty five | | |

◎ Hook specifications: Twin with front = tinsel Single standard equipment with rear = tinsel
◎ Hook size 15g: Chinu 2 20g: Chinu 3 25g: Chinu 4