Daiwa STEEZ CRANK 300 / 400
Comfortable winding comfort that can be continued all day long.

Overwhelming long-distance casting performance that does not make you feel stress, and high obstacle avoidance ability that does not get stuck even if you wind up the inside of the cover with a straight retrieve. And a comfortable winding feeling that you can continue to use all day and maintain your concentration. A high-performance system crankbait that can be used according to the range, full of simple and profound know-how that "you can catch fish just by throwing and winding". That is this Steez Crank series.

System cranking

The Steez Crank 300 with a depth of about 3.2m, and 400 with a depth of about 4.2m. If the ever-changing weather and field conditions change, the range of the bus will change. The great thing about Steez Crank's system is that you can adjust only the range without changing the action. It is possible to capture from shallow to deep while maintaining a light winding feeling.
The "semi-round type lip" with a rounded tip is used for the Steez crank.

 

This lip shape creates a tight wobble and roll action and creates a comfortable winding feeling, while ensuring a surface area that bites water properly, it also realizes a comfortable "pull-out" from the cover.

 

Of course, it is also effective for hard covers, but soft covers such as weeds are especially effective for semi-round lips.

 

With a square lip, it shakes the caught weed more than necessary and puts excessive pressure on the bass, but with a soft touch that does not feel strange, it will dodge it.
Overwhelming flight distance of STEEZ crank 300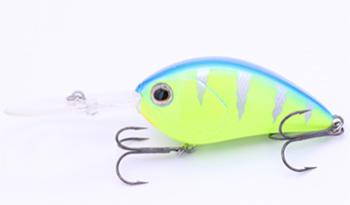 The feature of Steez Crank 300 is the overwhelming flight distance due to the center of gravity movement system using large tungsten weights.

 

It will fly far away with a stable flight attitude, despite the headwinds of strong winds.

 

In a lure called crankbait, which requires a certain amount of run-up to reach the dive range, it is a very important factor to get a sufficient flight distance.

 

Having a long running zone means that you can attract fish over a long distance, which inevitably increases the number of fish you can catch.

 

Please experience the castability that makes you feel that the cast has suddenly improved one day.
item

Size
Standard own weight
Dive depth
Hook specifications
(mm)
(g)
(m)
300
61
18
About 3.2
Saxus processing
treble # 4
400
70
25.6
About 4.2
Saxus processing
treble # 2